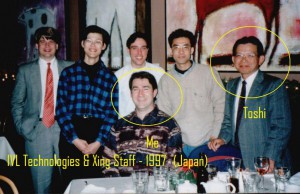 My thoughts have been with Toshi Ikeda lately in the aftermath of the devistating earthquake and tsunami in Japan. Toshi was the Japan business agent for IVL Technology in the mid-to-late 1990's when I was responsible for technical product managment and licensee support. On my many trips to Japan, Toshi accompanied me as both colleague and friend. He made sure I knew where to catch my next train, and where the best noodle shops were for a late night snack.
Some years later, I was in Japan on behalf of NovAtel and was able to catch up with Toshi at a Yakitori bar. I don't know how he has fared as a result of the earthquake, but sincerely hope he and his family are well.
Here's a picture of Toshi from a 1997 dinner in Japan, including Fred Speekeen and Barry Larson from IVL, and Nishikawa from Xing.