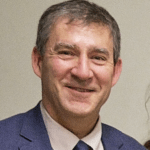 I help product visionaries accelerate ROI through realistic goal setting, pragmatic project management and effective engineering data control, preserving capital and reducing risk.
Dale Scott, P.Eng. is a results-oriented technical professional, accomplished at managing all phases of product development and introduction to manufacturing. A specialist in high-tech embedded and distributed systems including IoT, Dale creates high-performing teams through collaborative processes based on truth, trust and transparency.
Dale can help you refine your vision, develop a new product, ramp manufacturing, or re-engineer enterprise processes to increase quality and save time and money. Residing in Calgary, AB, Canada, Dale is available for on-site or remote project consulting.
Recent Projects
Re-engineered an embedded industrial process control instrument to design out obsolete components and protect existing revenue. Systems engineering, recruited team, managed milestones, reported on progress, and proposed direction. Development followed best practices to aid regulatory certification, and be a stepping stone to future products.
Modelled the product cost structure for a Silicon Valley startup (aka BOM creation and costing). Helped the founder understand product costs and risks of various SKUs. Expedited new product introduction (NPI) using a cloud PLM (Product Lifecycle Management system).
Wrote a standardized test procedure to guide product verification testing.
Managed NPI for an Agtech IoT hardware product. Scrum master for in-house mobile app development (Javascript) and cloud services development (contracted), and project proxy for company founder and product owner.
Engineered an embedded sensor system to create a proof-of-concept for an entrepreneur to commercialization their patent (Cortex-M4, custom sensor hardware).
Founded an open-source software project to develop a proof-of-concept web-based engineering data management and inventory control system for internal use by an Oil & Gas services company.
Proved feasibility of and implemented X-Ray inspection for electrical cable re-verification by an Oil & Gas services company.
Assisted product visionaries provide clarity with technology roadmaps, product cost models and project plans.
Developed engineering and manufacturing processes for compliance with business and regulatory requirements.
Dale is a registered Professional Engineer with APEGA, with a B.Eng. in Computer Engineering from the University of Victoria, and certificates in Computer Science and PMI® PMBOK® Project Management from Mount Royal University.
Contact Dale using the Contact form to discuss potential opportunities, and connect with Dale on LinkedIn.