Did the multi-mode commuter thing yesterday to see the 2008 NASC (North American Solar Challenge) finals at the University of Calgary. I first drive to a Calgary C-Train Park&Ride with my bicycle in the back of the van, then rode the train downtown with my bike and gave the van keys to my daughter so the van could make it back home, and finally got back on the train to get to the University of Calgary. I reached the finish line just in time to see the U of C car cross the line (finishing a very respectable 6th out of 14 in the final standings).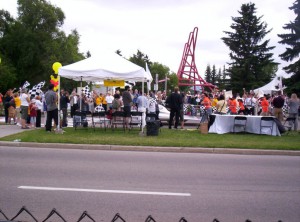 When a five minute notice was given for an approaching car, everyone headed to the finish line to watch the car, with its team jogging along side, come down the timing lane and across the checkered line. After post-finish checkouts by officials, the cars were put on display and team members answered questions. The students, together with their supporters and mentors, have made an incredible achievement. Although the vehicles may not be commercially viable, the value of the gained knowledge and experience for the students is immeasurable.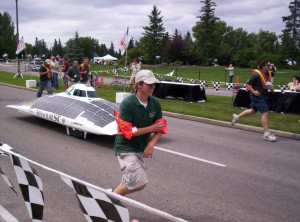 It was disappointing to see the Canadian governments didn't seem to recognize the importance of the event. Both the Federal and Provincial governments had prepared speeches read in their absence, so the sold Canadian politician attending in person was an alderman – who left me with the impression that the highlight for them was the road trip with the local media. In comparison, the US presented a speech in person, which although focusing on US achievements, nonetheless demonstrated government awareness and provided publicity for the cause. Too bad for us north of the 49th, opportunities like this don't come often.
After watching a few more cars finish and inspecting the vehicles on display, I bought a couple shirts to both remember and advertise the occasion (proceeds going to the U of C team's expenses), and then pointed my bike south towards home.
At the finish line ….
1st – U of Michigan, 51:41:53
6th – U of C, 75:42:53
14th – Oregan State U, 145:20:00
https://www.dalescott.net/photoalbums/nggallery/thumbnails