The MaestroTM Project is an open-source conceptual business environment, based on the fictional Swift Construction Company.
Maestro was founded to explore using an open-source development model for business infrastructure software, reducing overhead and development costs. It's purpose was to document system requirements using non-confidential user stories, workflows and source data, and support open white-box development at the system level. Maestro provided separation between confidential enterprise information and the development team, and supported an efficient, flexible, and cost-effective application development within a mature industry incumbent. Maestro later came to include a proof-of-concept reference application called Maestro PLM. The Maestro Project is hosted on GitHub and uses the business-friendly permissive BSD 2-Clause License.
Maestro continues to provide a platform for exploring enterprise business software systems in general. The workflows and data can be used to explore similar requirements within their own organizations.
For further information, please see the following documentation in the Maestro Project.
You can request additional information using the Contact form here.
Maestro Concept
The Maestro environment can be understood as a set of inter-related modules, similar to other enterprise software.
Parts (part numbers, revisions, sources, bills-of-materials…)
Projects (people, schedule, effort, material…)
Issues (relationships, investigations, conclusions, actions…)
Stock (serial numbers and quantities, purchasing, production, sales…)
Files (engineering and ad hoc documents, revisions, author, editors, tags…)
Users (user truth, role-based access control…)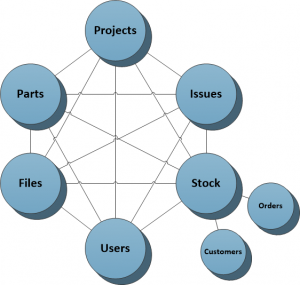 The Maestro environment exhibits Transparency with Trust for data shared across engineering, manufacturing, support and administration teams.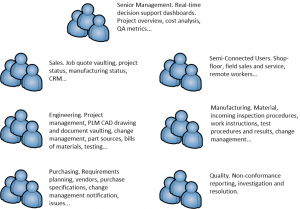 Maestro Server
Maestro Server is a conceptual business process management server for enterprises to easily roll-out Maestro features within their organization. Maestro Server is a fully-integrated stand-alone system for ease of deployment within an existing IT infrastructure.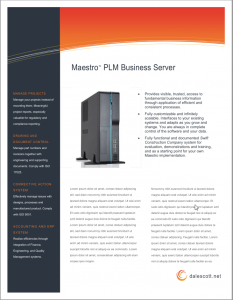 Download Maestro Server Datasheet
Maestro PLM
Maestro PLM is a proof-of-concept reference application developed as part of the Maestro Project. Drawing inspiration from desktop applications such as Parts&VendorsTM, Maestro PLM is web-based for simplicity and adds enterprise features such as true multi-user operation, document control, and material management.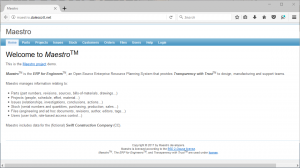 MaestroTM, ERP for EngineersTM and Transparency with TrustTM are unregistered trademarks of Dale R. Scott, and can be used according to the Maestro Trademark and Logo Policy.