The Maestro™ project is an open-source business model for an engineering, manufacturing and sales business, based on the fictional Swift Construction Company.
The Maestro project was created to investigate open-source software development as a strategy for enterprise infrastructure software. System requirements and operational situations were documented using non-confidential user stories based on the fictional Swift Construction Company, avoiding the need to divulge potentially sensitive confidential information.
Maestro continues to provide a framework for exploring enterprise business processes and business software systems, and now includes the Maestro PLM proof-of-concept reference web application
Maestro Model
The Maestro model is a set of inter-related functional modules, similar to most enterprise software management solutions.
Parts (part numbers, revisions, sources, related documents, bills-of-materials, change management…).
Projects (requirements, plan, people, tasks, scheduling, time spent…).
Issues (reports, relationships, investigations and analysis, corrective actions…).
Stock (serial numbers and quantities, purchasing, production, trace-ability…).
Files (engineering and ad hoc documents, revisions, authors, editors, approvers, tags…)
Users (authentication, role-based access control…)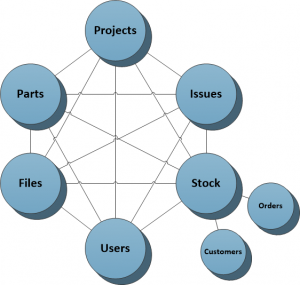 The Maestro environment allows information and files shared within an organization to have Trust and Transparency™.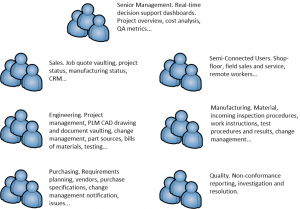 Maestro PLM
Maestro PLM is a proof-of-concept reference web application. The code is hosted on Github and licensed according to the business-friendly permissive BSD 2-Clause License.
Drawing inspiration from Parts&Vendors™, the eminent PLM solution for small teams in the late 90's and now no longer available, Maestro PLM is web-based for ease of access and includes enterprise features such as true multi-user operation, document control, and material management.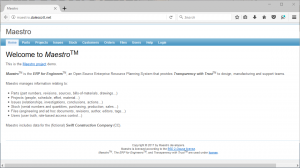 Maestro Server
Maestro Server is a conceptual stand-alone business process management server. Maestro Server enables enterprises to easily evaluate Maestro features without a significant IT investment. Maestro Server is fully-stand-alone, but can also be integrated with existing IT infrastructures.