The MaestroTM product lifecycle management (PLM) system is a conceptual ERP for EngineersTM, providing Transparency with TrustTM to design, manufacturing and support teams by managing information related to projects, parts, stock, issues and people.
Please see the demo on dalescott.net
Drawing inspiration from tools such as Parts&VendorsTM, Maestro adds enterprise features such as true multi-user client-server operation, integrated document control, and stock management – managing serial numbers and production lots. Maestro demonstration is based on the fictional Swift Construction Company (the SCC).
Maestro is developed as an Open Source project and uses the permissive business-friendly BSD 2-Clause License. The goal of the Maestro project is to develop a integrated business management solution suitable for small-to-medium enterprises (SMEs) to manage parts, projects, issues, stock, files and users. The Maestro project is managed on Github, and includes a proof-of-concept web application, developed using the Yii framework, an OO RAD framework for PHP applications.
Users
Maestro provides provides Transparency with Trust to design, manufacturing and support teams.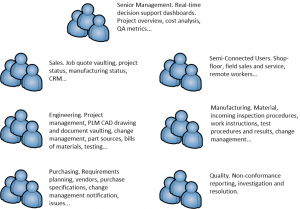 Module-Based
Maestro is composed of inter-related modules.
Parts (part numbers, revisions, sources, bills-of-materials…)
Projects (people, schedule, effort, material…)
Issues (relationships, investigations, conclusions, actions…)
Stock (serial numbers and quantities, purchasing, production, sales…)
Files (engineering and ad hoc documents, revisions, author, editors, tags…)
Users (user truth, role-based access control…)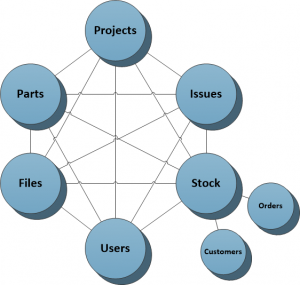 Resources
Please contact Dale for more information or to discuss potential use.
MaestroTM, ERP for EngineersTM and Transparency with TrustTM are unregistered trademarks of Dale R. Scott, and can be used according to the Maestro Trademark and Logo Policy.